Hönö Tourist & Fishing AB

15 years old, I got my first job after finishing school. It was to drive a service boat between Hönö and the construction of the lighthouse Trubaduren south of Vinga. My father went fishing trips and wine tours with his boat Belle-Amie in the 60's, then I was with him as often as I could.
After training and working as a carpenter. I started drawing and selling kitchens for Osby kök AB in 1973. My father drove an exhibition for Osby's kitchen with his boat Belle-Amie. In 1977 I graduated as skipper A (now 7th) and took over the business, bought my own schooner. 1977-1983 I was around Sweden's coasts, canals and lakes where we sold Osby kitchen with the boat "Lidan". We visited approx. 100 ports each year. An exciting time when places and people changed.
Sweden is fantastic!
In 1986, I started working at Marbodal kitchen with store development, then product development of kitchens. 2010-2014 for the kitchen group Nobia. After more than 40 fantastic years in the kitchen industry, I started Hönö Tourist & Fishing AB and was able to do what I like best. Drive a boat, organize experiences for guests from all over the world, tell about life now and events from history.
In 2015, the boat was bought which was named Belle-Amie after my father's ship, it was built in 1890, the same year that Evert Taube and Vinga lighthouse were born.
It is the interest in the beautiful archipelago we live in that I want to convey to as many people as possible. The hospitality industry is flourishing on the Öckerö Islands with the proximity to the Gothenburg area. Many work in the industry and it is my hope to contribute to its development even more.
Back where it all started, drive a boat in the archipelago between Hönö and Vinga. This is my passion instead of retirement.
Welcome omboard!
Bosse

We have over 70 reviews on TripAdvisor where our customers have given us the rating "excellent".
Bosse was amazing! Such a wonderful excursion with stories told with cruel empathy. Highly recommend experiencing this!
Lina M
The guide and skipper Bosse has created something very special. The tour was personal, fun and entertaining. On the way to and from the island of Vinga, exciting stories from the past were told. Will recommend this tour to several people in my vicinity. Thank you Bosse for a fantastic afternoon on your boat!
Oline
Great guided tour to Vinga with Captain Bosse at the wheel. We heard a very interesting story during the trip out to Vinga. Can really be recommended
Kerstin P
The trip to Vinga was really pleasant, and the captain of the ship kept the box in his very own way, we heard about not only Evert Taube but also about seals and German submarines etc. Highly recommended!
AoMiLund
So fun and interesting, our kids thought the seal safari was a highlight. We had a wonderful afternoon. It is noticeable that Bosse has a burning interest in history, and he conveyed that so nicely to us who were on the boat trip.
Ann Gustafsson
A fantastic trip! Nice and stable boat even at sea. Nice, entertaining and well-read skipper / guide who is passionate about his cause!
Bertil B
Bosse likes what he does and it shows. Absolutely fantastic trip on a nice boat. Can really recommend this tour. Affordable and genuine!
Johan J
We enjoyed every second! Interesting stories brought to life by 'the Skipper' when the boat safely pushed forward in a divinely beautiful west coast environment!
Kitty W
Hönö Båtturer works to ensure that as many people as possible can go on a nice boat trip without their own boat to take part in life in the archipelago. The boat Belle-Amie runs on environmentally classified diesel MK-1. All waste is sorted and transported to a recycling station.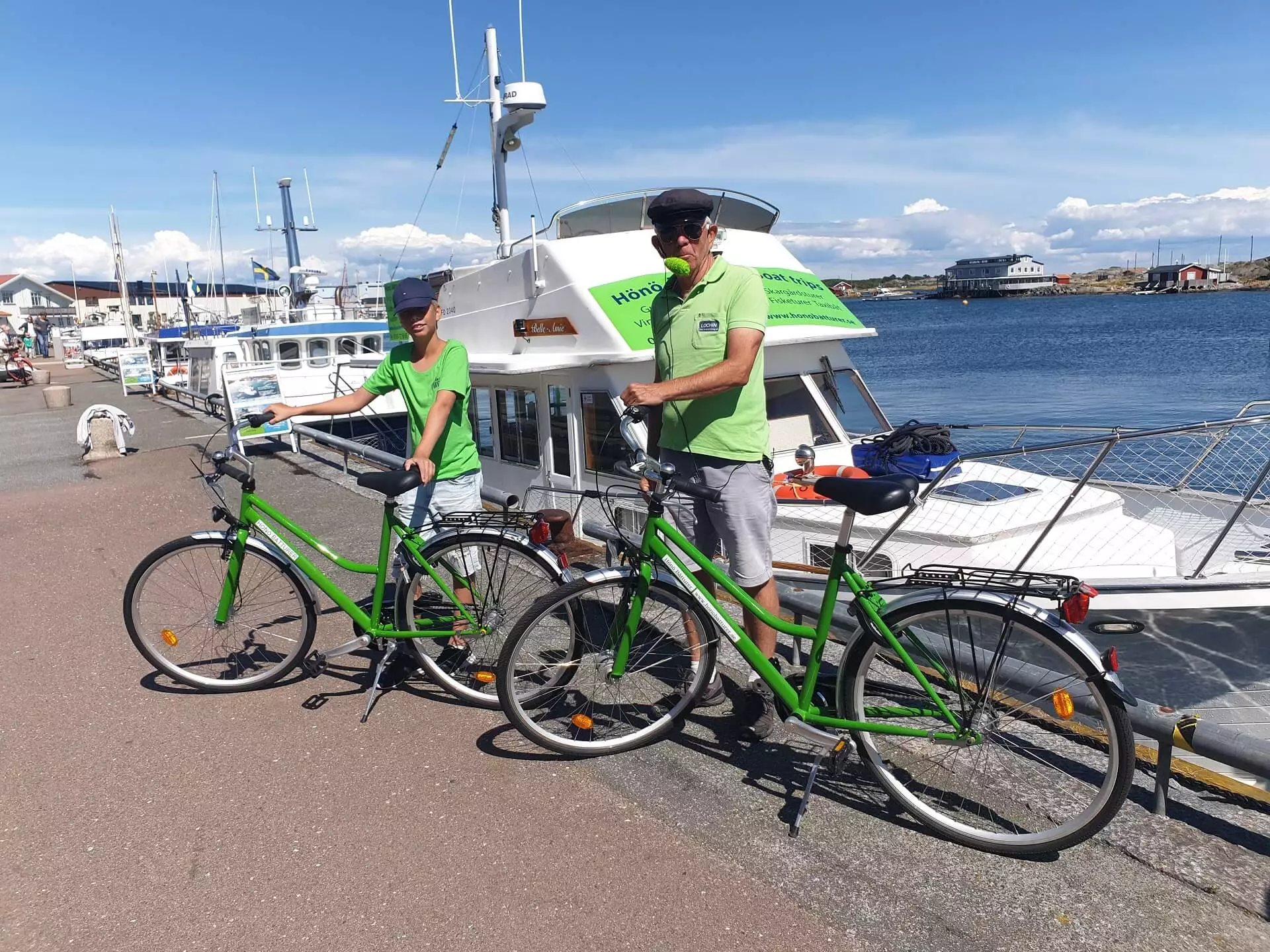 Hönö Boat trips in close collaboration with:
Join us out in the beautiful archipelago!